60% Off Amaizing Instant Mildew & Mold Eliminator
With our special Amaizing Mildew and Mold Eliminator, you can easily

remove 99.9%

stubborn mold and mildew without scrubbing it!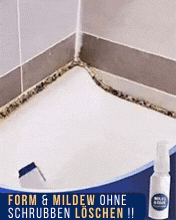 This

fast-acting

formula instantly

attacks mold

and mildew at the roots, kills them completely and

prevents further growth

in your home!

Forget the hard work. Just spray directly on a surface such as bathrooms, kitchen, wall, tiles and

watch the mold disappear

!


Don't worry anymore, effective action so you can clean less and live more!

Properties
Kill instantly 99.9% mold

This fast-acting and stain-removing solution effectively kills mould and mildew at the roots, which are difficult to remove with normal detergents.
No scrubbing!

Simply spray directly on to the mould surface, easily remove mold, mildew, soap foam and these slimy black spots on tiles and damp surfaces without scrubbing.
100% clean & deodorizing

Leave a lightning clean home! Penetrate and remove the toughest contaminants of all time.

☆ TAKE ADVANTAGE OF OUR

BUNDLE OFFER

GET

60%

OFF ☆

☆ THE

MORE

YOU

BUY

☆

☆THE

MORE

YOU

SAVE

☆
Wide application

For use in bathrooms, kitchen, wall, tiles, sinks, etc.
Long-lasting protection

Form a protective film and prevent the recurrence of mildew stains for a long time.
EASY TO USE

1. Dry the moldy place with an old  towel.
2. Spray directly onto the mold surface.
3. Leave hard-to-remove marks a few mins until the outline shape disappears, then repeat if necessary.
☆

100% SATISFACTION GUARANTEE

☆



Do you have any questions or need help? Then contact us! We are available 24 hours a day via email. support@ohsaucy.com